RecruitFlow: A New Concept in Recruiting
RecruitFlow is a new recruiting concept in the industry designed to tackle the tough issues of high turnover, management recruiting, and HR effeciency. Focused on a career-centric approach, RecruitFlow provides a scalable hiring solution ideal for franchises and businesses with multiple locations. See the details below or check out an area of interest from the menu to the right to learn more.
The Most Cost-Effective Management Recruiting System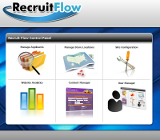 RecruitFlow is a comprehensive management recruiting solution for your business designed to reduce cost per hire and increase applicant quality. The service includes a fully themed website for your business, an online employment application, and full website administration via our management interface. Be sure to visit our feature comparison page to see how we are different from other solutions out there.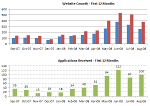 Career-centric VS. Position-centric Recruiting
Most recruiting solutions today follow a particular model:
You have a position that needs to be filled.
You provide the job description, location, and salary information.
The recruiting service advertises your job position to attract applicants.
You field the applicants, set up interviews, and hire your new employee.
This has an associated cost for each position you list. Today's job market poses several problems with this method. Each time you have a vacancy that can't be filled form within your company the HR department goes through the listing, interviewing, and selection processes all over again.
With RecruitFlow's career-centric hiring, you list all your job descriptions on a single, company-branded website. Applicants choose a career rather than a specific position and submit their resumes. RecruitFlow automates the entire process and builds a database of applicants interested in working at your locations.
When it's time to fill a position, your HR department can log into your RecruitFlow system and filter through applicants who have already applied to work at your company. After reviewing the resumes, they contact the applicants to make the final selection.
RecruitFlow automates the recruiting process, replaces cost-per-job-listing fees, and builds a resume database of people ready to work for you.