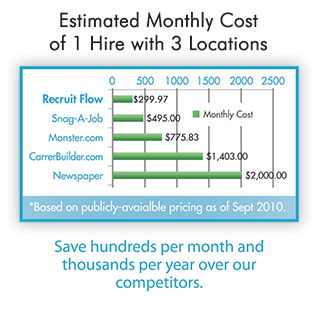 Pricing
RecruitFlow is very competitively priced. By not charging per job posting, costs are significantly reduced. After a one-time setup fee, recuring costs are calculated based on the number of store locations from which you are collecting potential job applicants.
Setup Fee: $499.95
What's Included:
Initial import of all store locations from an electonic document (Excel, CSV, Word, etc).
Integrate company logo into website theme.
Register or transfer domain name of your choice (yourcompany.com).
Custom Theme: $1,500
What's Included:
Create an online presence that is custom to your unique needs.
Tightly integrate with your existing website theme.
Monthly Location Pricing:
| Number of Locations | As low as... |
| --- | --- |
| 1-5 location | $99.95 per location |
| 6-50 locations | $69.95 per location |
| 51-100 locations | $49.95 per location |
| 101-500 locations | $39.95 per location |
| 501-1000 locations | $24.95 per location |
| 1000+ locations | Only $19.95 per location! |